Isabella Aragon
Are You Ready to Pitch Your Business to Shark Tank? 5 Bookkeeping Tips You Need to Know!
Let's pretend for a second. Just imagine walking into the Shark Tank room with the amazing, yet intimidating investors and getting ready to pitch your business. You get done telling them how amazing your business is and why you deserve to receive an investment from them. You tell them how much you are asking and the equity you will give in return.
Now, Mr.Wonderful, Kevin O'Leary gets ready to say something and you know he is about to DRILL you!! He is about to ask you all the questions under the sun about the financial health of your business.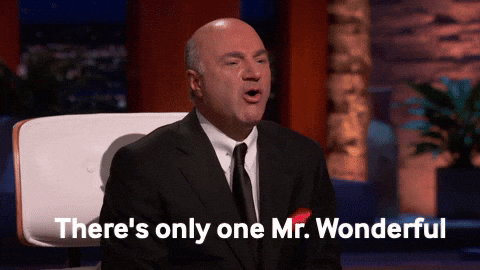 How is your heart feeling? Is it palpitating with fear because you have no clue or are you feeling like the bad b*tch that you are because you know your numbers like the back of your hand.
If you are currently still feeling PTSD from this little pretend sesh, I want to extend my apologies, BUT I want to press on that emotion a bit more. I don't expect you to know your numbers, let's be real again, doing your books and knowing the numbers was not the reason you decided to go into business in the first place.
You decided to become a boss babe, an empowered women entrepreneur because you found a need in the world and you want to fulfill it. Your heart lights up when you create a course about the topic you love. You leave that 1:1 coaching call with your clients pumped after you gave them all of you! That is the reason you do what you do, not to sit and look at numbers, so girl I do not blame you. I understand you.
However, part of being an entrepreneur and owning your own business is making sure that all the foundations of your business are in check and running like a well-oiled machine. This includes those pesky numbers you might be neglecting.
Before we can get to understand our numbers to the point that we can show up to Shark Tank confident, the following five steps should be in place. These are the basic, building blocks to getting to know the financial health of your business.
Tip #1: Separate your business and personal
Not only is this tip #1 but in my book, it should be step #1 if you are thinking of starting your own business. Do not wait until you have clients to open a separate business bank account. Separating your business from your personal transactions can become a true nightmare if you decide to wait until your business is booming. By doing this from the start of business (before having your first client) you will be able to have an accurate understanding of your business's cash flow since you can determine your income versus your expenses month after month.
Tip #2: Make your books a priority.
Okay, we already established that this task can be daunting but hear me out. Making your books a priority is crucial to your success. By completely neglecting your books, you are just delaying the inevitable. Every year around January to April, you are rushing trying to get your books in order for tax season.
Avoid the stress and work on it throughout the year. Take a few minutes a week to sort through transactions incurred and always reconcile your accounts at the end of every month. DIYing your books is always an option if you are not ready to outsource, but if number is not your thing and you would rather be working in your zone of genius than in front of your computer, then maybe it is time to hire a bookkeeper.
Tip #3: Do not forget about taxes.
Remember you are now a business owner and taxes are no longer automatically deducted for your everytime you get paid. Set aside anywhere from 20-30% of your monthly revenue so you can pay taxes with ease when the time comes. Do you research and understand how much money you need to set aside monthly to cover your tax obligations.
Tip #4: Track everything expense
Business expenses and tax deductions are a real thing and you should take advantage of this! To do this you must track every expense that comes through. You will be surprised how much money is left on the table every year by small business owners just because they simply did not keep a record. Track everything, and let your tax preparer do their magic!
Tip #5: Create a budget
How do you steer a car if you are driving with a blindfold? You can't!
Same goes with your business. You cannot expect to grow your business if you aren't clear as to where your money is going towards month after month. By creating a budget you become intentional about where you are spending your hard earned money. This will prevent you from letting money slip through the cracks but instead increases your net revenue each month.
Bookkeeping may not be fun for you. I do not expect it to be, but it does not have to be dreadful. Make knowing your numbers and understanding the growth of your business enjoyable. Hire a bookkeeper, outsource it to someone that can do all the heavy lifting for you so every year you can see and know how great of a job you did all year.