Nicolette Stacey
How To Host A Networking Event In A Semi-Post Pandemic World
Raise your hand if you've been personally victimized by Covid-19?!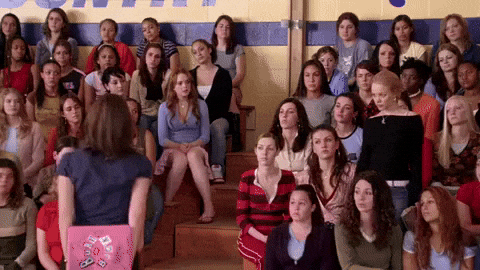 A classic Mean Girls quote is always a good way to get things started. But honestly, is everyone else as sick of reading about the pandemic as I am about talking about it?
However, brighter days are ahead as restrictions loosen here in Ontario. Like many, I have been affected by the pandemic in my everyday life and also as an entrepreneur. Launching a business during a global crisis may sound a little crazy, and it definitely was, but it also gave me an ample amount of time to really dive in and explore what I wanted my brand to be and what services I wanted to provide. Although I had tons of time to work away at creating this dream come true, many opportunities, that a new business owner relies on, remained out of reach as we waited for vaccines and for the positive cases to decrease. However, the tides are SLOWLY turning and some of these opportunities are back… but just may look a little different this time around.
One of the key elements needed to launch your business so far up into the stars is - you guessed it, networking! Yes, we can network via social media, and thank goodness that was an option during the long, cold months in lockdown, but everyone knows face to face is always best. And now it's back and better than ever (in my opinion). The constantly changing regulations are definitely a little confusing but a good rule to go by at this point is if you have enough chairs for them in your home then send that invite!
This brings us to Tip #1! Keep it small! I think a lot of us think networking needs to be this huge event where you meet as many people as you possibly can in one night. That's a lot of pressure and you're likely to not have great conversations if you're focusing on your next target…
Keeping it small allows you to:
Remain safe (from that dang Covid)

Not stress about meeting a billion people

Really get into it and make a meaningful connection!
Now, keeping it small has another benefit that brings us to Tip #2! The smaller the event, the wilder you can go with decor! Most of us entrepreneurs don't have the luxury of thousands of dolla-dolla-bills just hanging around and so, a small group works much nicer with a decor budget. You can make a great table-scape so easily these days - youtube and Pinterest have it all! Go all out, show your personality and have some fun with it, we deserve it! Tip #3 is to try something new! Networking events can sometimes feel so cold and sterile, let's spice it up! If you have a backyard, host it there! If you don't, I'm sure there's a great local restaurant that would love to have you! The point being, do something you personally would love to do, that also is conducive to great conversation, and you and your like-minded guests are sure to have a great time!
Tip #4 coming in hot! Make a statement! People like stuff, but people LOVE free stuff. Make a swag bag or goodie bag, whatever suits your business more! Think of things that people use in everyday life, maybe sticky notes, pens…wine glasses, and then slap your logo on it! If you're not looking it put your brand on everything, perhaps a box of local artisans' products and some tasty treats! This can even be done through virtual gifting programs if you are planning to stick to the virtual route!
Finally, I leave you with Tip #5, hire a planner. Planners exist to make life easier, solve problems and help make your dreams come true - I'm not saying we're heroes… If you have it in your budget, a planner will be a great investment and put your event up there with the pros. Also, as a bonus, networking with a planner in any industry is always a good idea!
I hope you enjoyed these tips and that they help with your next event! Remember, just have fun and try something new, we've all been cooped up for far too long and everyone just wants to enjoy life again! With these tips, the conversations will surely flow easily.
Nicolette Stacey
Leader & Co-Founder of Nova Socials
Nova Socials specializes in Engagement, Elopement, Bachlor/ette,
Intimate Social Events & Decor Rentals. Check them out on Instagram at @novasocials_to or their website www.novasocials.com